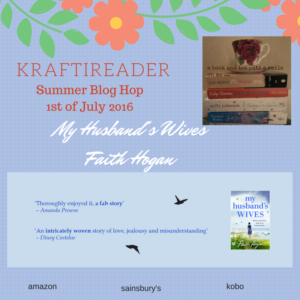 Thanks so much to Adele Blair over at Kraftireader for this great review!! I love it,
Faith x
This is Faith's debut novel and after reading My Husband's Wives I have high hopes for her literary career.
The story begins with Grace, a young, beautiful woman full of creative flair at an exhibition of her artwork. Her work is generating a lot of interest but one visitor at the exhibition stands out to Grace and catches her eye. Paul Starr was confident, charismatic, good looking and one of the top surgeons in Ireland, he was also believed to be married. An instant mutual attraction was felt between Grace and Paul and it wasn't long before this attraction grew and a relationship was born.
Paul had mentioned to Grace that he was married but his marriage was not a conventional one and he assured Grace that Evie, his first wife, was happy with his new friendship with Grace. Their relationship took a serious turn when Grace fell pregnant and Paul and Grace soon became a committed couple, or so Grace thought. When Grace started pointing out to Paul that she'd like to go back to work Paul's character, I felt, took a darker note. He wasn't impressed and wanted Grace to stay at home with their daughter. The relationship came to a crashing stop when Paul admitted he'd found someone else, someone a lot younger than himself and that she, Annalise, was pregnant. Grace was devastated and wished that she was the one that Paul now wanted.
Several years later Grace received an unexpected visitor to her house, she knew instantly that something was wrong when the visitor announced she was Evie Considine, Paul's first wife. Evie came to inform Grace that Paul had died in a car accident. Even more shocking than Paul's death, Evie revealed that she was still married to Paul.
What follows is a story told by all three of Paul's wives. We learn of how they met him and how their lives were turned around by this charismatic man that was very clever in the way he manipulated his ladies. A further young woman is introduced to the three wives and their history and future is thrown off balance even more by this new acquaintance of Pauls. Faith Hogan's writing style was very easy and enjoyable to read, the characters were recognisable and likeable. Faith dealt very sensitively to loss, betrayal, guilt, love and desire. I did feel a sort of darkness hidden within the pages and was intrigued to where the story would go next. A brilliant debut novel 5/5*