Any writer will tell you that the culmination of all those words is seeing the book in your hand. Maeve Binchey once said that imagining her eventual book launch was what got her through the wilderness of writing her first book.  Launching My Husbands Wives was a happy occasion,  I had expected to be a bundle of nerves, but surrounded by family and the best of friends who came out to wish it well on it's way into the world, it turned out to be an absolutely brilliant night.
Of course, I did have the fabulous Kate Kerrigan doing the introductions. Kate, a best selling author and recent RNA winner for her lovely book – It Was Only Ever You, opened up the night and I couldn't but feel I was in the very best of hands.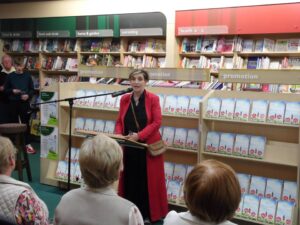 Kate did a very kind intro and then I followed on, with pages flying, thank yous and a little bit about how the book came about and the journey to publication. Everyone was very kind, especially the people in Easons, Euan, Karen, Kathleen and Alison and those behind the scenes – Declan. We had the lovely Katie Cassidy playing her guitar and sounding for all the world like a celtic Norah Jones – such a talented lady! Mayo Now sent along a photographer and Ballina Community Radio captured the whole thing for a future broad cast – I can thank them for the recording here!
Mostly, I thanked the people, friends old and new, readers and well wishers who turned up just to support someone starting out – it was very touching, humbling and just lovely.
Here's the Hogan – Cafferkey – Sheehan Clan at the end of a very enjoyable launch!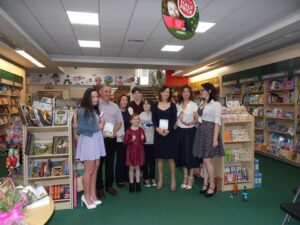 And what more can I say, apart from, I'm really looking forward to the next one!!