I grew up in a house of books. There were books from my parents, my grandparents and even my great grandparents. There were books that were read to us, books that were gifts and those we discovered ourselves as children and later as teenagers. We were a family who bought the daily paper – the Irish Press every day and twice a week my mother purchased a magazine (really her only treat) more I think for the short stories than anything else. One of those magazines was My Weekly. You could say it's a magazine that's been with me for most of my life, so I was absolutely chuffed when My Husband's Wives was a Karen's Pick this year. I was over the moon with her thoughts on the book!
Here's a link to the review:
And here's the review:
Review: My Husband's Wives by Faith Hogan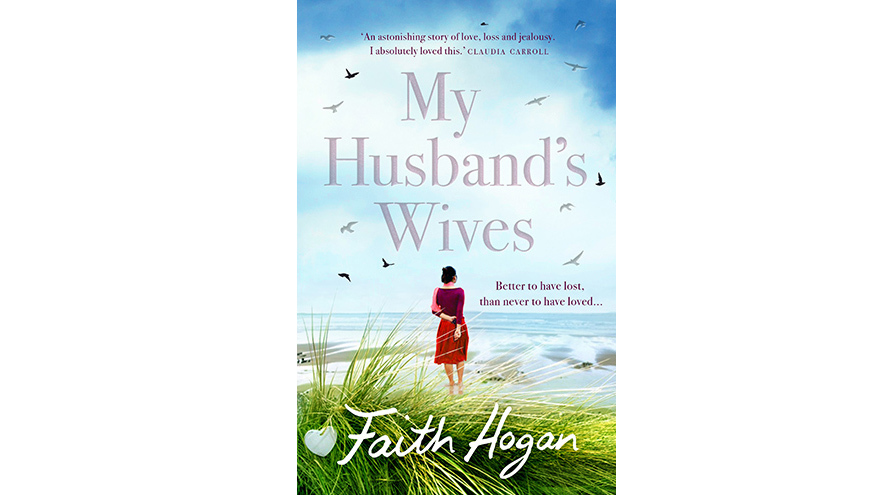 My Husband's Wives by Faith Hogan (Aria Fiction, £12.99)
Reviewed by Sarah Proctor
Paul Starr is a charismatic, gifted Dublin heart surgeon. When timid, convent-school-educated Grace meets him at the opening of her painting exhibition, she is overwhelmed by the attraction between them. Though knowing full well that he is married, she throws herself at him with abandon in a way that is quite disconcerting – for the reader as well as for Grace herself.
Their passionate affair quickly leads to her falling pregnant . Paul, ecstatic at the news, pledges to arrange a quickie divorce from his wife Evie before he and Grace exchange vows in Malta.
Tangle of secrecy
Yet this is no happy-ever-after. Grace's depression prevents her from bonding with her daughter. Paul tends joyfully to their child and talks of adding to their family. But Grace resumes work and secretly goes on the Pill.  While a traumatic incident makes her realise she does love her daughter, she is absolutely sure that she wants no more children.
When Paul finally discovers this, it is the final chill to their dramatically cooled relationship and he moves on to marry Annalise.  A former Miss Ireland, beautiful and uncomplicated, she depends on him for everything and bears him two sons. Yet when Annalise yearns to return to her modelling work, a gulf opens up between her and the man who was everything to her.
Then Paul is killed in a car crash. It is reported that Annalise was with him and was injured – but the pregnant girl in the car was not her. Three women meet at the hospital, each of them eyeing the others in shock and feeling as if the ground has fallen away from under their feet as more details emerge about Kasia, the girl in the car …
This is all a deceptively simple lead-up to a nuanced, non-judgmental examination of a flawed hero. Paul cared deeply for all the women in his life but in never being able to let go entirely of his life with any of them, has prevented them all from truly moving on.
Yet surprisingly none of them hates Paul for the tangle of secrecy he has left behind. He is a bigamist, a consummate deceiver. Yet his good work as a surgeon, including spells in impoverished Romania, and his genuine love for each of his families, are seemingly enough to offset this.
The only time the focus resolves into sharp black and white is in dealing with the saintly, put-upon Kasia  and even then Kasia attempts to rationalise Paul's possessiveness as defensive.
Plot twists keep the reader guessing
As someone who is always seeking mitigating circumstances in real life, I felt rather as if all the work was done for me in this book! Still, the end result is characters so rounded and multi-faceted that they have continued to hold conversations in my head days after I turned the last page.  And there are a number of plot twists to keep the reader guessing.
By introducing us first to Grace, the second wife – rather than starting chronologically with Evie, or working backwards from the present with Annalise – Faith Hogan achieves a certain kind of cantilevered balance.
While we follow each of the very different women in turn as their lives converge and intertwine, the narrative is far from symmetrical or predictable, with shocking setbacks and unexpected revelations testing the growing bonds between Evie, Grace, Annalise, Kasia and Grace's daughter Delilah.
Against the odds, the women and children whom Paul took great care to keep apart come together after his death to form a new kind of family – and the loneliness and neediness that drew Paul to each of them is finally eased in a way he could never achieve himself.
An unusual and perceptive book, My Husband's Wives seeks to show that whatever the emotional mess and pain, it can eventually be resolved by strong women with patience and love. A fine message indeed.