As part of a blog tour – you get asked to do lots of different things. Just after our last tour finished, Jill invited me to participate in her Five on Friday slot and I just thought I'd add it in here – it's a little different….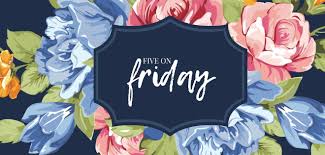 Which 5 pieces of music/songs would you include in the soundtrack to your life and why?
This is a tough one… but here we go…
Waterloo – ABBA. This is probably one of the first songs I remember singing loudly at the top of my voice in the back garden when we were kids. In my memory (maybe coloured by imagination) those days were all long and sunny and we wore cotton dresses and sand shoes and ate penny sweets. Our back garden (tiny now) was the place where every kid on our street hung out and we had wonderful adventures with home made tents and a goose that put manners on us if we dared to lose the run of ourselves – ah, yes, happy days indeed!
Love Cats – The Cure. Being young, being in love and believing that you're invincible and… soul mates!
Nothing Compares To You – Sinead O'Connor. Because everyone has their heart broken once and this was the song that made it all seem so much more poignant.
You're Just Too Good To Be True –  Andy Williams. Getting my mojo back and all the wonderful things life seemed to stack up for me to mend that broken heart.
Il Paradiso – Ennio Morricone. Because when I really did fall in love – it felt like this and everything just fell into place around me like a perfect orchestra with each instrument filling up their sounds perfectly – this is a piece of music that even now makes us (Mr H and I) stop and smile at each other.
Highlight 5 things (apart from family and friends) you'd find it hard to live without.
Penny – our Labrador.
Coffee
Moisturiser / Sunblock!
Reading Glasses for all the books I couldn't leave behind!
My Lap Top
Can you offer 5 pieces of advice you'd give to your younger self?
The Big one:  Don't Stress!
The next one… No-one else is really watching, so do it anyway!
Number 3 – You're better than you think at EVERYTHING!
Four: Go for it!
And Finally, Five – Take the time to say hello and goodbye, because you never know…
Tell us 5 things that most people don't know about you.
I started out writing crime and still take out those old manuscripts now and again and have a little tinker with them, just for fun!
I'm Irish and I don't drink (alcohol) but I make up for it with vast amounts of coffee.
I usually have three or more books on the go at a time (reading) and one is always a self help book of some sort!
My favorite colour is green – although I've tried to talk myself out of it and choose something that doesn't have forty variations!
I'm a total a sucker for a good face cream!
What are the first 5 things you'd have on your bucket list?
I'd like to see Kenya (perhaps more as it was, than as it is!)
Talk Mr H into a second dog, a pony and two large fat cats all at the same time!
I would like to go back, one day… (when all the kids are finished school!) and do my Phd, but that looks like a long, long way off at this point.
I'd love to have a vintage, smallish motor one day when I don't need to be carting seven seats about the place and paying road tax that runs to a king's ransom! I like the idea of setting off on lazy afternoon spins in the country with the hood down and the dog in the back and stopping off at country pubs for afternoon lunches and walks by the sea! (well it is a bucket list!)
Finally, it may be cheating but, I'd like to see a world of equality – where there was no great disparity between rich and poor, men and women and everyone got a fair shot at their life's dream – that's the kind of world I'd like to see my kids grow up in!
Thanks so much for taking part Faith. I'm loving the music choices, especially Il Paradiso. You are a woman after my own heart with the face cream – we should swap recommendations ( I think I've tried quite a few!). Good advice to your younger self, number 5 is particularly poignant and very good advice for all adults as well. Hope you get to have your second dog, and that Phd sounds like a great plan for the future. As for equality – Amen to that!
You can check out  Jill's Book Cafe here! If you like books – there are lots of great reviews and plenty of other writers there talking about their Fives!