Welcome to Ballycove…
I can't quite believe that it's just one week away – and The Guest House By The Sea will be in readers hands. I'm so excited for you to read this book. It's a book I've wanted to write for years. It's all of those things that I love when I settle down to escape the daily grind. It has sun, sand, sea and characters that I hope will charm you so you are invested in following them until the very last page. It has, I hope an ending that will satisfy and in Esme, Cora, Marta, Phyllis and Niamh there is a little bit of all of us, which of course means that only time will tell how things work out for them.
So far, the feedback for the Guest House has been phenomenal. I'm overwhelmed by the kindness of early readers and just a little awestruck at some of the wonderful quotes other writers have been good enough to send in after enjoying their stay in The Willows – The Guest House By The Sea.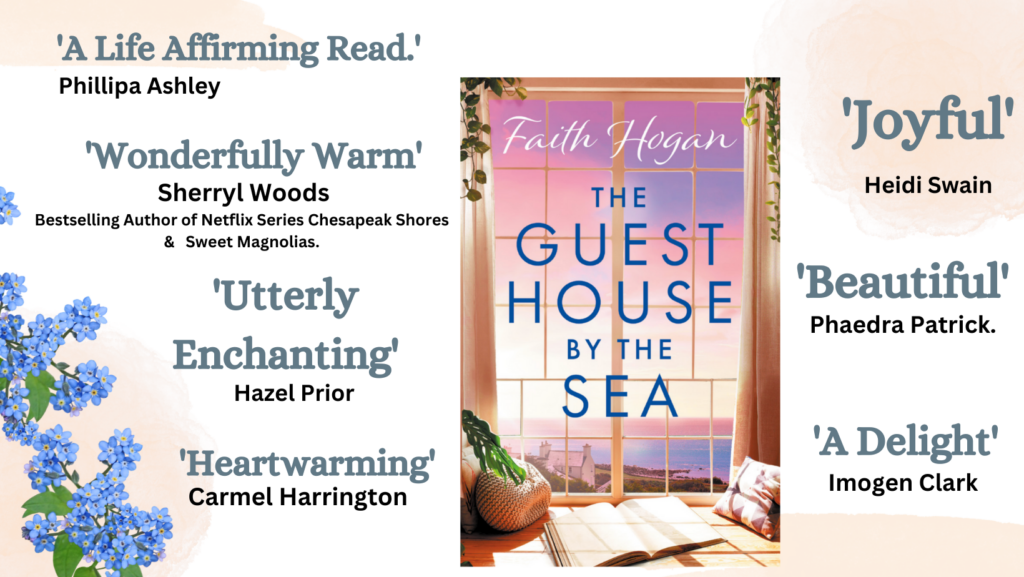 One of the big surprise visitors to Ballycove this year was Sherryl Woods – yes, THAT Sherryl Woods – she of the hugely successful Sweet Magnolias and Chesapeak Shores series currently running on Netflix – just a little star struck to say the least! She was very kind in her praise, as were so many other hugely successful writers that I admire who read and quoted for the book.
In other, BIG news, The Guest House By The Sea has also been selected as a Pigeon Hole Bookshelf read and the feedback from this has been just amazing. I've popped in each day to see how things are going and thus far, readers are loving it! If I was technologically savvy enough – I would be sharing some of the lovely comments here- unfortunately, the particular level of guru feature only comes when Tomas – computer genius son is here to help!
And so, one week left to go… over on the socials, there will be competitions running to win free books and all that goes along with the bells and whistles of a new release, so be sure to follow along and join in to be in with a chance of winning some very special prizes.
For now, I'm luxuriating in that lovely feeling in advance of the book hitting those bookshelves. There are pre-order links everywhere, but if you're in Ireland and you're looking for a summer read, why not pop into your local bookshop and pick up a copy!
And of course, welcome back to Ballycove….

People come to the guest house for fresh air and views across the Atlantic. But if they're lucky, they might just leave with the second chance they didn't know they needed…

Esme has run the guest house for as long as anyone in Ballycove can remember. But in her declining years, her sight is failing, and when she has a fall on the eve of the summer season, she is forced to take a back seat for the first time in her life.

From her chair in the entry hall, not much passes Esme by. There's Cora, the wife visiting indefinitely… without her husband; Niamh, the city professional with a life-changing decision to make; and Phyllie, the grandmother whose family is slipping away from her.

Esme's guests provide the colour that helps her keep her grip on the world. All of them have something they want to escape – or to hold on to. But can Esme help them find their way before the summer is over?

From bestselling Irish writer Faith Hogan comes a new, uplifting story about discovering love, friendship and the healing power of the Irish sea air. It will charm fans of Sheila O'Flanagan, Heidi Swain and Susanne O'Leary.

'Once again Faith pulls you into her world instantly and never lets you go, with such an incredibly real cast of characters who you feel actually exist. A Life affirming and unputdownable read.' Phillipa Ashley

'What a delight this book is. A gorgeous cast of characters, the perfect seaside setting and Faith Hogan's wonderful talent for dialogue all come together to make this a lovely feel-good story with an ending that will cheer your heart.' Imogen Clark