On The First Day Of Christmas is here!!
I know, it's only October, we really need to get over ourselves, right? But some things are beyond our control and if everything moves slowly in publishing, the one exception to that rule has to be the arrival of festive reading. Honestly, I've had a hankering after some Christmas books since July – so I really can't be the woman throwing stones from my glass house!
The good news is that On The First Day Of Christmas has hit the shops this month. It's available here in Ireland in Easons and very many of the Independents but also in some of the bookshops in the UK – certainly Sainsbury's and of course, the usual bookshops. This is the paper pack edition, so it's a different cover to the larger version which came out last year and managed to pick up some lovely quotes and reviews along the way.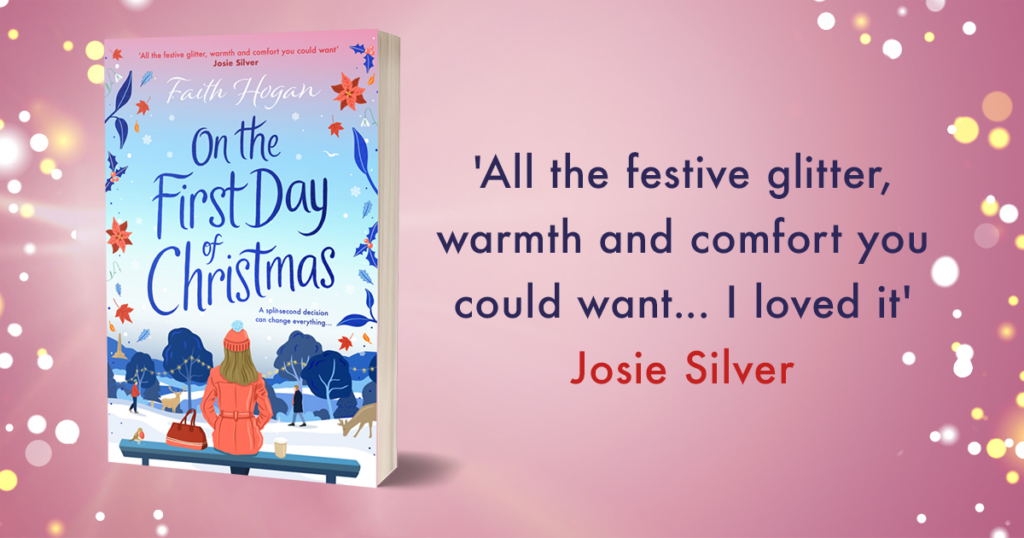 The new cover is… I KNOW! Lovely and sparkly!!
It's been compared quite a bit to Sliding Doors and a little PS I Love You, although that wasn't the intention when I was writing it, I can definitely see the comparisons. This could be the ideal gift for the reader in your life who's teetering between Taylor Jenkins Reid and Cecilia Ahern – it's got a little more bite than some of my books, but I promise, it's still an uplifting read, which I think is what we're all after at the moment.
Here's the gist of it…
A gorgeous new festive read from the Kindle #1 bestselling author of The Ladies' Midnight Swimming Club
This Christmas, everything will change…
When Liv Latimer says goodbye to her fellow nurses and finishes work for the holidays, she's looking forward to a Christmas to remember with her boyfriend Eddie.
But as she leaves the hospital, tragedy strikes and Liv is faced with a choice. Will she ignore her instincts and go home as planned? Or will she stay, and potentially change the course of her life as she knows it?
Whatever choice she makes, Liv is about to discover that fate finds a way…
From the bestselling Irish author of The Ladies' Midnight Swimming Club comes an emotional and uplifting festive story about love, family and how a split-second decision can change your life.